Your team members are your greatest asset and the lifeblood of your company. Whether they're in-house or remote, keeping them happy today and tomorrow will help you reduce staff turnover which significantly impacts your client retention and profitability. In this webinar, we'll share ways to give all your employees a great experience so that your organization can benefit from a great culture.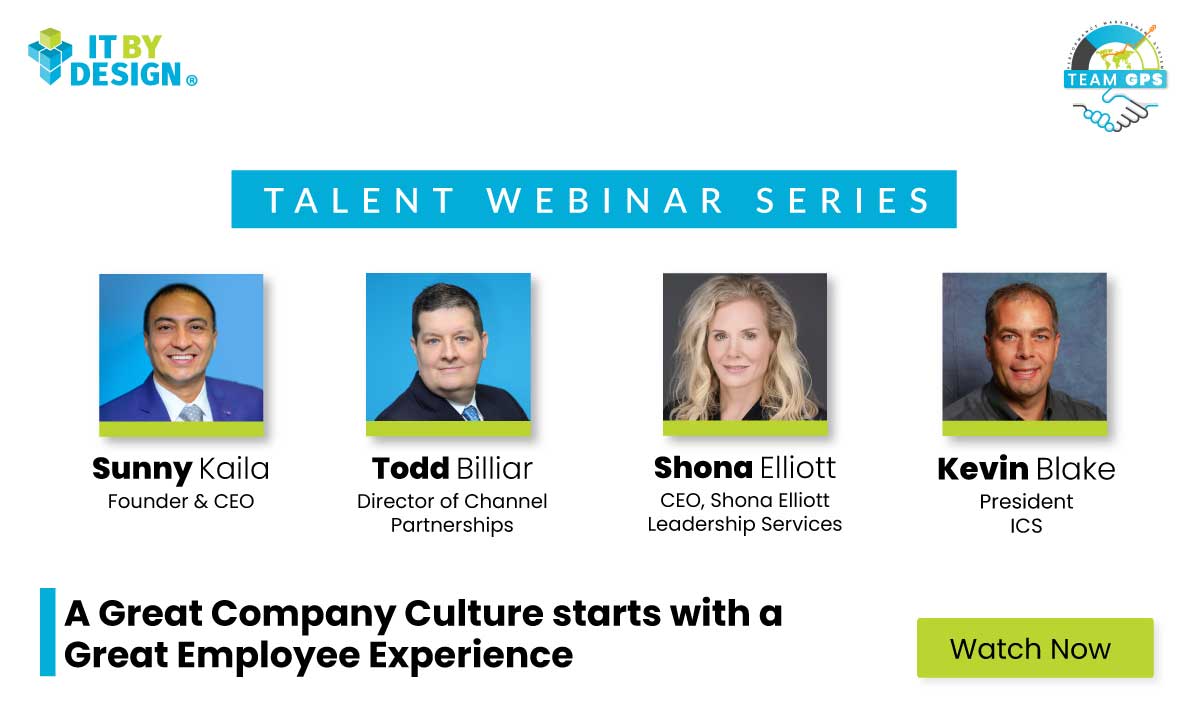 Come hear what the leading voice on talent in the MSP industry can teach you about engaging your employees! Shona Elliott is a former MSP CEO who will teach you the most effective ways to create enjoyable, productive experiences for your team members, increasing your retention rates and building a strong culture for your organization. As a bonus for attending, you'll get Shona's Engagement Blueprint and IT By Design's Employee Experience Roadmap Template.
March 9th
1:00pm EST
Our Panel of Experts:
Sunny Kaila
Sunny Kaila is the Founder and CEO of IT By Design. He has built IT By Design into the largest privately held MSP in America. His business philosophy of building a community at work led to IT By Design being named Great Places to work Certified in multiple countries. ITBD is now a global company with nearly 600 employees.
Shona Elliott
Shona Elliott is an experienced senior leader who is passionate about helping other senior leaders connect and engage with their greatest assets – their employees – for the purposes of increasing employee retention, employee engagement, and achieving an organization's strategic goals. As a previous CEO of an MSP, Shona understands the many challenges and competing priorities of busy executives and senior HR leaders.
Kevin Blake
Kevin Blake is President and CEO of ICS, one of the country's largest private equity-backed managed service providers. Under Kevin's leadership, ICS has grown exponentially year after year both organically and via mergers and acquisitions. It has roughly 150 employees across four locations. Serving as the visionary, Kevin believes that our secret weapon is our Culture. He also accredits ICS's success on his incredibly talented community-oriented team of employees.
Todd Billiar
Todd Billiar has more than 25 years of dedicated experience in technology consulting and service, as a technical specialist, a manager, and vendor. He brings extensive experience to the channel having worked for large and small VARs, MSPs, and multiple IT Channel-focused vendors.